Wild New York: A Celebration of Our State's Natural Beauty Charles Brumley, author/ Bill McKibben, foreword/ Carl Heilman II, photographer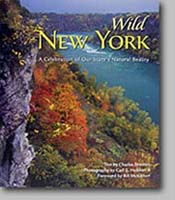 New York State is an incredibly diverse state. There are seashores, waterways, mountains, lakes, parks, preserves, and the largest wilderness area east of the Mississippi River. A number of these contain features that are unique in the eastern United States, and a few have worldwide significance.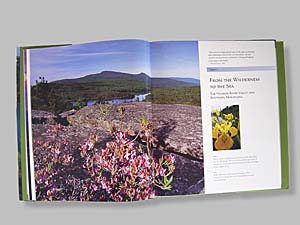 From the wonder of Niagara Falls, the nations' first state park, to the seals along the ocean shores at Montauk, New York contains almost every type of natural landscape found in the US.
Wild New York celebrates the unique natural beauty and spirit of New York in all its wondrous glory. From rivers to beaches; wildflowers to wildlife; mountain peaks to wetland preserves; the spectacular photography of Carl Heilman II and the engaging narrative of Charles Brumley bring our vast and varied state to life.
Chapters include - The Hudson River Valley and Southern Mountains; The Adirondacks and Tug Hill Plateau; Niagara Falls, The Great Lakes and St. Lawrence; Chauttaqua - Alleghany Gorges and Western Mountains; The Finger Lakes; Long Island; and New York City Preserves

Hardcover - $35.00 ~ 160 pages, published by Voyageur Press

All books are autographed and dated. Please specify if you would like an inscription personalized - and how - or prefer it to simply be signed and dated.




Adirondacks: Views of an American Wilderness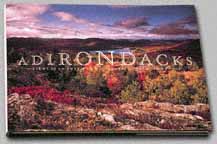 Paddle a canoe along a remote Adirondack shoreline... Enjoy the panoramic vista from a High Peaks summit... Marvel at the orchids growing on the mat of a primeval bog... Feel the sun's warmth as first light flows across the landscape... Explore the diversity of the trails in the Adirondack foothills... Revel in the simple beauty of the changing of the seasons...






The vast Adirondack Park contains the largest tracts of wilderness found anywhere in the eastern United States. This special region, with it's unique mix of both public and privately owned land, has been protected since 1885 by the
New York State Constitution.



In 'Adirondacks', author and photographer, Carl Heilman II, has captured a real sense of the Adirondack region with his spectacular imagery,
and evocative narrative. An eloquent introduction by best-selling
environmental author, Bill McKibben,
helps give a full perspective of the Park.



Each paperback book is signed and dated.