B&B's and Inns in the Lake Champlain Valley - High Peaks - New York / Vermont

1804 Potter House B&B - 2 Plains Rd. 802-899-5072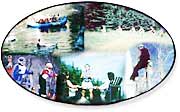 Adirondack Vacation Adirondack Bed and Breakfasts of the North Country
If you are looking for a relaxing Adirondack vacation, we have compiled a list for your convenience. When visiting the Adirondacks, we know your trip will be enhanced if you choose one of our lodging facilities
Adirondack Meadows - Located near the historic hamlet of Essex and featuring farm fresh eggs, gourmet breakfast and country hospitality. 277 Lake Shore Road (518) 963-4075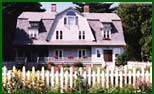 All Tucked Inn
Adirondack Bed and Breakfast - Located in the historic village of Westport, All Tucked Inn offers relaxed informal lodging and dining overlooking Lake Champlain and the majestic Green Mountains of Vermont.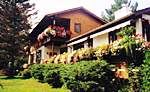 Andersen Lodge - An Austrian Inn
3430 Mtn. Road Stowe, Vt. 05672
Phone: 802-253-7336
Fax: 802-253-4715
We offer seventeen spacious bedrooms with private baths, color TV with cable, and air conditioning. Some rooms have a telephone and refrigerator. Guests can relax in the Sauna or Jacuzzi. We are located across the road from the Stowe Recreation Path which provides an exceptional 10 mile loop for walkers and bikers.
Andrie Rose Inn - 13 Pleasant Street 802-228-4846
Angelica Blue - Our splendid Victorian rowhouse dating from the late 1800's featuring large, sunny spacious rooms with original cachet.
Annex, The - Rt. 125 E, Middlebury, VT 05753, 802-388-3233
Autumn Harvest - 118 Clark Rd, Williamstown VT 05679 802-433-1355
Baileys Mills Bed & Breakfast - 1347 Baileys Mills Road (802) 484-0014
Baker's Bed & Breakfast - 80 Campbell Road (802) 775-4835
Baldwin/Prindle Guest Home - 1195 Baldwin Road 802-482-6319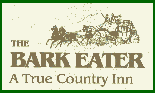 The Bark Eater Inn and Stables
P.O. Box 139 Alstead Hill Road, Keene, NY 12942
Phone: 518-576-2221 Fax 518-576-2071
Email: info@barkeater.com Originally a stagecoach stopover, The Bark Eater has been in operation since the early 1800's. The atmosphere still reflects these early times. The farmhouse, with its wide board floors, stone fireplaces, and rooms filled with antiques compliments its natural setting. Famous for its food, the inn's style is refreshing country gourmet. Included with the room is a hearty country breakfast hosted by Joe Pete Wilson, a former Olympic and World Competitor. Our stables offer horseback riding year round, and groomed cross country trails in the winter. Nestled in the heart of the Adirondacks and only minutes from Lake Placid's Olympic Region. The Bark Eater is a place to relax and enjoy your vacation.

Barnhouse Bed & Breakfast - 9 McDonald Farm Road 802-985-3258
Beaver Meadow Bed & Breakfast - 319 Beaver Meadow Road (802) 649-1053
Bed & Breakfast Adirondack Collection - Charming group of bed & breakfasts located in Essex County-from Schroon Lake to Wilmington. These unique B&Bs are all near either Lake Champlain, High Peaks, or Whiteface Mt. Bountiful breakfasts.
Bed & Breakfast Inns Online - Locate B&B's in Vermont and across the US
Bentley House Bed & Breakfast - (800)894-4004 Family-friendly Victorian B &B in the Village of Poultney,VT. Close to Lake Bomoseen and Lake St. Catherine. Adjacent to Green Mountain College. Come enjoy this quintessential town !
Betsy's Bed & Breakfast - 74 East State St, Montpelier VT 05602, (802)229-0466
Birchcliff Bed & Breakfast - 205 Chapin Road 802-879-1685
Birchwood Bed & Breakfast - The Birchwood B&B is a charming home built in 1920 and lovingly restored in 1993. It is situated in the picturesque village of Derby Line in northern Vermont located at the Canadian border.
Bittersweet Farm - Bed and Breakfast and Farm. Open only during the summer season.
Blue Heron Group, Limited - 181 Maple Street 802-253-7791
Blue Moon Bed & Breakfast - 337 Old Military Rd. 518-523-9622
Boathouse Bed & Breakfast - Historic B&B located in Lake George,open year round. Built in 1917 by The famous boat racer George Reis.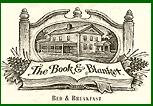 The Book & Blanket Bed & Breakfast
PO Box 164, Route 9N, Jay, NY 12941 Phone: 518-946-8323 email: bookinnjay@aol.com1850's style Greek Revival brimming with books for borrowing and browsing. 3 guestrooms devoted to Jack London, Jane Austen and F.Scott Fitzgerald provide extra roomy accommodations. Set in Adirondack Hamlet complete with Village Green and swimming hole. Minutes to High Peaks and Lake Placid.

Branch Brook Bed & Breakfast - Burke South Wheelock Rd 802-626-8316
Branch Farm Bed & Breakfast - 8 Branch Farm Road (518) 891-0869
Brandywine Bed & Breakfast - 802-843-2250
Brass Lantern Inn - An intimate B&B Inn in the heart of Stowe. Fireplaces, whirlpools award winning breakfasts
Brooks Sunshine Cottage - One block from Main Street this charming bed and breakfast has well has four apartment suites equipped kitchens, living rooms. Grills, VCRS, A/C. Ideal for families and small groups. Non-Smoking.
Brookside Meadows Country Bed & Breakfast - We've had 20 wonderful years living in this special home, 17 of them as lodging hosts.
Buccaneer Country Lodge - Mt Mansfield Rd, Stowe VT 05672, (802)253-4772
Burlington Redstone B and B - 497 S. Willard Rt 7, Burlington, VT 05401, 802-862-0508
By the Old Stream - Spectacular waterfall and lush gardens surround a charming 130 year old miller's home.
By The Way B and B - 407 Main St. Middlebury, VT 05753, 802-388-6291
Canterbury House Bed and Breakfast - Located in Woodstock, VT - An 1880 Victorian Town House, with 8 rooms, within walking distance of the village green. A/C
Cape North A Tourist Home - 193 Route 9 East (802) 464-5595
Cat 'N Fiddle B & B, The - 47 Sentinel Rd. 518-523-9879
Catamount Family Center - Bed and Breakfast, Crosscountry skiing, snowshoe, ice skating, mountain biking, trail walking and running, hiking, 592 Gvnr Chittenden Rd, Williston, VT 05495, 802-879-6001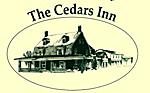 Cedars Inn - The Cedars Inn is just a block and a half off Route 100 on Maple Street in Waterbury Center. This quiet setting permits our guests to enjoy this peaceful Country Village, fresh mountain air of Vermont


Churchill House Inn - 3128 Forest Dale Road 802-247-3078
Cobb Brook Farm - 151 Charlie Smith Road 802-434-3574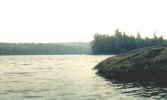 Cochrans Bed & Breakfast
303 Kiwassa Road, Saranac Lake, NY 12983 - (518) 891-5721, Email: douglas@northnet.org
Cochran's Bed and Breakfast offers a pristine setting on Kiwassa Lake far from the hustle and bustle of daily life. Take a canoe, relax on the dock or simply join us for a night or two. The Bed and Breakfast bedrooms, bathroom and separate kitchen are conveniently located upstairs in their own private setting away from the main quarters of the Cochran's home. There is a minimum stay of two nights for weekend getaways. Prices range from $95-$200/night.
Country Cousin Bed & Breakfast - Old Depot Road (802) 375-6985
Country Essence Bed & Breakfast - We invite you to enjoy the sights, sounds, and surroundings of fresh country air, beautiful sunsets, family grown garden and inground pool.
Country Road Lodge Bed and Breakfast - A secluded idyl on the Hudson River at the end of a country road since 1974.
Crystal Palace Victorian B&B - 45 North Street (888) 674-4131


East Kiln Farm Guest Ranch and Bed & Breakfast - Bed & Breakfast nestled in the Adirondack Mts. Enjoy a scenic trailride on one of our professionaly trained horses or bring you own!
Elliot House Bed & Breakfast - 5779 Dorset Street 802-453-3247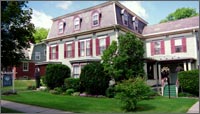 Emerson Guest House
82 Main Street Vergennes, VT 05491
Phone: 802-877-3293
email: info@emersonhouse.com
Emerson Guest House is an 1850 Victorian Bed & Breakfast located in the quaint town of Vergennes, Vermont. We're situated in the heart of Lake Champlain Valley, just 10 minutes from Basin Harbor Country Club, 15 minutes from Middlebury, and 30 minutes from Burlington. We are located on four acres of land with walking trails, gardens, apple trees and sunset views of the Adirondack Mountains.
Engel House Bed & Breakfast - RR 112 (802) 368-2974
Fair Haven Inn & Restaurant - Our B&B is a free standing haven for adult travelers, business people and vacationers alike. The B&B offers three charming bedrooms each with private bath, CATV, A/C, and a cozy sitting area.
Fair Haven Inn Bed & Breakfast - 18 Main Street 802-265-9706
Fitch Hill Inn Bed & Breakfast - 258 Fitch Hill Rd, Hyde Park Vt 05655, (802)888-3834, 1-800-639-2903. 6-room B&B in ca. 1797 farmhouse on quiet hilltop overlooking Green Mountains. Mid-way between Stowe and Smuggler's Notch.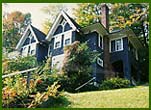 Fogartys Bed & Breakfast This historic cure cottage built in 1920, overlooks Lake Flower and faces Mts. Pisgah, Baker and MacKenzie. It is within walking distance of downtown Saranac Lake, and close to ski areas. - Saranac Lake, NY - (518) 891-3755



Forrest Aerie B & B - 518-523-4825
Forty Putney Road Bed & Breakfast - 40 Putney Road (802) 254-6268
Four Pillars B&B - Happy Valley Rd. PO Box 132 (802) 457-2797
Fox and Pheasant Inn - We cordially invite you to our Vermont inn, a special bed & breakfast nestled on three acres at the foot of Bear Mountain at Killington.
Gardner's Eden - A Private Luxury Vacation Rental Apartment In Beautiful Stowe, Vermont. Bed and Breakfast, Inn, Private getaway vacation,
Gazebo Inn - 25 Grove Street 802-247-3235
Golden Maple Inn - The Historic 1865 Bed & Breakfast on Vermont's Lamoille River ... Ed & Sandy Kenny, Innkeepers
Grand-Vue Bed & Breakfast - 2423 Lake Shore Rd. 518-298-5700
Green Trails Inn - Charming 13 room country in by the Floating Bridge in historic Brookfield, Vermont (800) 243-3412
Greystone Bed and Breakfast - Flexible breakfast service and unique private setting outside Woodstock.
Grunberg Haus B&B & Cabins - 94 Pine Street 802-244-7726
Gwendolyn's B&B Inn - Main Street 802-263-5248
Hadleigh House - Route 100 North, Stowe VT 05672, (802)253-7703
Hartwell House Bed & Breakfast - Located in a well-established, quiet residential neighborhood, Hartwell House is convenient to colleges, the bike path, restaurants, theaters, museums, and churches offering bed and breakfast
Hazen's Notch - Our ski center, located at the top of Vermont is

Heart of the Village Inn - 5347 Shelburne Rd, Shelburne, VT 05482, 802-985-2800 In the heart of the historic village of Shelburne, Vermont, our casually elegant bed and breakfast inn welcomes you. Built in 1886 by a prosperous merchant, Cyrus Van Vliet, this handsome Queen Anne Victorian has retained its prominence as one of the centerpieces of the Village, and is listed on the National Register of Historic Places.


Hidden Garden's Bed & Breakfast - 693 Lewis Creek Road
HighWinds Bed and Breakfast - 101 Campbell Bay Road 802-868-2521
Hilltop Cottage Bed and Breakfast - 4825 Lake Shore Drive (518) 644-2492
Hivue BB Tree Farm - 730 High Pond Road 802-247-3042
Homeplace Bed & Breakfast - PO Box 96 802-899-4694
Honeybee Bed & Breakfast - 103 Church Street, 802-447-2941
Honeywood Country Inn - 4527 Mountain Rd, Stowe VT 05672, (802)244-7529
Howard Street Guest Home - 153 Howard Street 802-864-4668
I.B. Munson House - Route 7 (802) 446-2860
Inn At Rutland - Located in the Rutland Killington area this 1889 Victorian Inn has 11 uniquely furnished guest rooms offering private baths, cableTV and phones. A three course gourmet breakfast is served daily.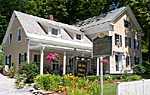 Ira Allen House - The Ira Allen House is a cozy country inn in the Battenkill Valley of Southern Vermont The Ira Allen House is a cozy country inn in the Battenkill Valley of Southern Vermont. It is one of the oldest Inns in Vermont and a state historic site. The tavern and the bedrooms above are over 200 years old. It was built by Ira Allen (Ethan Allen's brother) who was the Surveyor-General of Vermont.

Island View Cottage - 2737 Georgia Shore Road 802-524-0968
Jefferson House - Main St, Jeffersonville VT 05464, (802)644-2030
Jewell Brook Inn - Ten comfortably appointed guest rooms, less than a mile from Okemo.
Judith's Garden Bed & Breakfast - Judith's Garden Bed & Breakfast is located on 30 acres in a wonderful Green Mountain setting. On clear evenings you can sit on the front lawn and watch the sun set behind the Adirondack Mountains.
Juniper Hill Inn - 153 Pembroke Road 802-674-5936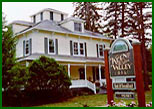 Keene Valley Lodge
Route 73, PO Box 701, Keene Valley,NY 12944
Phone: 518-576-2003
Historic 7 room (most with private baths) Bed & Breakfast located in the center of the High Peaks village of Keene Valley. Convenient to Great Range trailheads, rock and ice climbing, cross country skiing locally as well as restaurants and shops.
Kilburn Manor - 59 Milwaukee Street Malone NY 12953 518-483-4891
La Maison du Jardin B&B - An old fashioned house with 3 bedrooms, fire-place and private garden.
Lake George Bed and Breakfast - 47 Montcalm Street (518) 668-5477
Landon Hill Bed & Breakfast - fireplace/woodstove, private bath, cable TV, handicap facilities, quality assurance, gourmet packages, X-C packages.
Lang House on Main Street - 360 Main Street 802-652-2500
Lareau Farm Country Inn - Route 100, Waitsfield VT 05673, (802)496-4949
Lemon Fair Bed and Breakfast - B&B located along the eastern shore of Lake Champlain, near Middlebury College.
Lilac Inn - Leading romantic destination for dream weddings. Completely renovated 1909 Historic District mansion with the feel and amenities of a small luxury hotel.
Mannsview Bed & Breakfast - Route 108, Stowe VT 05672, (888)937-6266
Maple Grove Farm Bed & Breakfast - 3517 Oak hill Road 802-878-4875 Century home of the Ishams - three bedrooms-full breakfast with our own maple syrup !
Maplewood Inn - Beautiful 1843 Greek Revival B&B nestled at the base of the Green Mountains close to all Vermont's Treasures and Pleasures.
Marble Hill Bed & Breakfast - A 1910 Colonial Revival - built by a president of the Vermont Marble Company for his family. Materials and workmanship are of the highest quality, but with the comfortable feel of a home.



Maple Leaf Inn -53-55 Saranac Avenue Lake Placid, NY 12946 Telephone: 518 523-2471 Fax: 518 523-5378 Email: info@maple-leaf.net
Located in the village within easy walking distance to Lake Placid's many fine shops and restaurants. We offer a wide array of quiet, comfortable accommodations. Choose from our standard double, two doubles, adjoining, king bed and non-smoking Jacuzzi rooms with one queen bed. Also available is a two bedroom suite with one queen bed in each room, efficiency kitchenettes and an apartment with a kitchenette and a gas fireplace in the living room.

Memory Manor Bed&Breakfast - memory manor is a 1920's Glens Falls original which has been painstakingly restored. We feature three bedrooms and an efficiency suite and have furnished our B&B with beautiful family heirlooms.
Missisquoi Riverbend Bed and Breakfast - Charming Victorian Farmhouse on Missisquoi River. Full Country Breakfasts., Canoes for guest use, vast access - 4 rooms - Gift Shop in Barn. Open all year.
Old Mill Inn B&B - 79 Stone Mill Dam Rd 800-599-0341
Paradise Bay Bed & Breakfast - 50 Light House Road 802-381-5393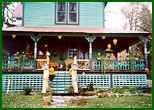 Paradox Lodge
76 Saranac Ave, Lake Placid, NY 12946
Phone: 518-523-9078 toll Free: (877) 743-9078
Built in 1899 and located on Paradox Bay on Lake Placid lake, Paradox Lodge provides a quiet and comfortable atmosphere for guests. Four rooms are available on a year round basis, each decorated in its own unique style featuring handmade Adirondack furniture, antiques, beautiful quilts, ceiling fans, down comforters and plenty of down pillows. (All rooms have private bath.) On the main floor there is a comfortable living room where guests may lounge and relax before having dinner in the dining room. The menu features delicious food and a large selection of wines. (The dining room is open to the public and reservations are recommended.) A large covered front porch with wicker chairs is a nice place to watch the setting sun or you may prefer to sit down by the lake and enjoy the view of Whiteface Mountain. Kayaks and mountain bikes are also available for use.
Pepper's Lodge & Restaurant - German Flats Rd, Warren VT 05674, (802)583-2202
Phineas Swann Bed & Breakfast - An 1890's Gingerbread Victorian with French doors, hard wood floors, and a cozy fireplace to set the relaxed mood.
Pie-in-the-Sky Farm - Bed & Breakfast and Retreat in quiet rural area 12 miles from Montpelier
Poultney Inn - Comfortable village lodging in the Heart of Vermonts Lake Region 236 Main Street Poultney, VT 802-287-4270
Proctor Ave. Bed & Breakfast - 47 Proctor Avenue 802-864-9209
Pt Au Roche Lodge - Capacity-16. 8 Rooms. Air cond/Heat. Fireplaces. Jacuzzi. Launch site. Located on the water. Pets (leashed). Disabled access. Credit cards accepted. Upscale 8 room bed and breakfast with jaccuzzi, fireplaces, romantic atmosphere.
Saratoga Sleigh Bed & Breakfast - Saratoga Sleigh Bed and Breakfast is a Victorian Inn located in Saratoga Springs, New York
Schroon Lake Adirondack Bed & Breakfast - Romantic Country Inn ~ Exceptional lodging with comfortable elegance and outstanding gourmet breakfast. Located in the Adirondack Region of upstate NY.
Shady Maples Bed & Breakfast - Beautiful turn of the century Victorian located within walking districe from down town Randolph. Three gracious guest rooms, all with Queen size beds and private bathrooms.
Silas Griffith Inn - Whether you're looking for a romantic getaway weekend or for lodging in the tranquillity of a Vermont country village, you've found the perfect spot.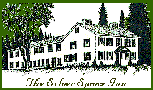 Silver Spruce Inn B&B Route 9 P.O. Box 426 Schroon Lake, NY, 12870. 518-532-7031. email: info@silverspruce.com Adirondack elegance at its best. Restored mid 1820's 16 acre executive retreat, antiques, grand common areas, imposing fireplaces, sun porch, garden grove and gazebo. Outstanding accommodations each with a private bath. Home cooked country breakfast. Convenient to camps, lakes and wilderness. Smoke Free. Open Year Round.

Sinclair Inn Bed & Breakfast - The inn is an 1890 Queen Ann Victorian with 6 guest rooms, each with a private bath. We are 25 minutes to Burlington at the edge of the Green Mountains. Rates include a full breakfast in the morning
Smugglers' Notch Inn - Smugglers' Notch Inn & Hungry Lion Restaurant in Jeffersonville, VT 05464 (802)644-2412
Snowed Inn - Our family owned and operated Bed & Breakfast Inn welcomes you with warmth and casual grace.
Somewhere In Time Bed and Breakfast - 3841 Lake Shore Drive (518) 668-9151
South Meadow Farm Lodge - (518)523-9369
Spruce Lodge B & B - 31 Sentinel Rd. 518-523-9350
Stoneleigh Bed & Breakfast - 1888 stone house with five rooms, all but two with in room fireplaces. close to all venues. Our rates are very reasonable, Call for further info,518-873-2669.
The Apple Pie Inn Bed & Breakfast - Sits above the rapids of the Ausable River and the local swimming hole. You can take a swim or sit in the natural "Jacuzzi". While the Apple Pie Inn is located in the heart of town,walking,skiing.
The Artful Lodger - Our renovated carriage house is tucked away in a friendly little neighborhood in the heart of downtown Burlington. Enjoy our spacious, sunny house which features 22-ft cathedral ceilings.
The Butternut Inn - 2309 Mountain Rd, Stowe VT 05672, (802)253-4277


The Doveberry Inn and Restaurant - P.O. Box 1736 802-464-5652
The Golden Maple Inn - Main St, Wolcott Vt 05680, (802)888-6614
The Inn at Bolton Valley - 4302 Bolton Valley Access Rd, Bolton Valley, Vt 05477, 434-3444
The Inn on the Library Lawn - 1 Washington Street P.O Box 390 Westport NY
The Mill Brook Bed & Breakfast - P. O. Box 410, Route 44 (802) 484-7283
The Old Mill Bed & Breakfast - Route 9N (518) 873-2294
The Parent Farmhouse B&B - 854 Patee Hill Road 802-524-4201
The Pitcher Inn - 275 Main St, Warren Vt 05674, (802)496-7555
The Quail's Nest Bed and Breakfast - Post Office Box 221/81 South Main Street 802-293-5099
The Raspberry Patch - 606 Randolph Rd, Stowe Vt 05672, (802)253-4145
The Red Shutter Inn - 41 West Main Street 802-464-3768
The Round Barn Farm - 1661 East Warren Rd, Waitsfield Vt 05673, (802)496-2276
The Shire Inn - 8 Main St, Chelsea Vt 05038, (802)685-3031
The Stone Hill Inn - 89 Houston Farm Rd, Stowe Vt 05672, (802)253-6282
The Stoneholm Country Inn - We are located 12 miles from Burlington in the foothills of Mt. Mansfield. We serve a full breakfast. Our rooms are attractively decorated and you will feel like you are home. 1-802-878-3044.
The Toscana Country Inn - Mountain Rd, Stowe Vt 05672, (802)253-9776
The Wayside Inn & Conference Center - Restored 1786 stagecoach inn 5 minutes from downtown Saratoga Springs. Hosts travelers, meetings & educational programs. Ten acres, decks, porches, gazebo, gardens, bridge, stream, pond.
The White House - 178 Route 9 East (802) 464-2135
Thomas-Mott Homestead B&B - 1838 Renovated Shaker-Style Farmhouse on Lake Champlain.. Rustic Yet Refined. Full Breakfast Served.
Three Bears At The Fountain - 1049 Pucker, Stowe Vt 05672, (802)253-7671
Three Bears at The Fountain Bed & Breakfast - Where Everything is Just Right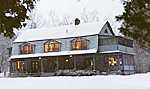 Trail's End B&B
HC01 Box 103, Keene Valley, New York 12943 - (518) 576-9860 or 800-281-9860
A romantic 1902 Adirondack lodge nestled in New York's Keene Valley amid soaring mountain peaks. This rustic, romantic, and secluded bed & breakfast inn is ideally located for all season activities as hiking, canoeing, fishing, whitewater, bicycling, horseback riding, golf, tennis, swimming, bird watching, rock climbing, and more.
Troy Street Bed & Breakfast lodge - 102 Troy St, Richford Vt 05476, (800)498-3557
Vacation Lodge at Pelots Bay at North Hero Island - 18 Chelsea Street 802-878-6146
View and Far Between B & B - 518-946-1243
Village Cottages - 156 Garmon Ave. PO Box 317 315-369-3432
Village Victorian Bed and Breakfast - 107 Union Street
Weathertop Lodge - We are unique because we offer the best combination of modern amenities with country charm and warm hospitality.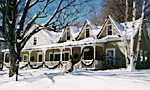 West Hill House B&B Inn - On a quiet country lane. 3 common rms w. fpl. 7 guestrms w. fpl, jacuzzis. 1 mi. to Sugarbush, 6 to Mad River Glen. See web site description, photographs, availability, secure on-line reservations.

Whitingham Farm Bed & Breakfast - For peace, quiet, pampering and a romantic sleigh or carriage ride.
Whitney Brook Bed & Breakfast - 2423 Twenty Mile Stream Road 802-226-7460
Wiley's Farm Bed & Breakfast - 74 Lincoln Street 802-878-4668
Willard Street Inn - The Willard Street Inn is Burlington's first historic Inn, featuring 14 unique rooms, all with private bath, some with lake views. $125 to $225 including full breakfast. 1-800-577-8712.
Willey's Farm Bed & Breakfast - 74 Lincoln Street
Williston B&B - 6458 Williston Road 802-879-2542
Willkommen Hof - Willkommen Hof is a non-smoking European style guest house. Guest rooms have private or shared bath, fireplace, baby grand, reading room, sauna and hot tub. A full home cooked breakfast is included.
Willow Pond Farm B &B - Set on 200 secluded acres bordering the Lake for lovers of gardens, birds, wildlife and hiking. Glorious sunsets mountain and pond views. Extensive gardens.
Windy Meadow Farm Bed & Breakfast - 882 Irish Settlement Rd.
Woodman Hill House - Modern Private Suite located on picturesque Woodman Hill off of U.S. Rte 7 in our turn of the century Victorian style house. Pets are allowed, daily & weekly rates available. Private entrance. A/C