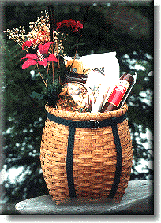 We invite you to browse our exciting selection of Baskets, made by local artisans. Enjoy Your Visit!

Adirondack Basket Case - Saranac Lake, NY - 518-891-2423 or 1-800-263-0480
Adirondack Basket Case creates Custom Baskets for any occasion. Pack Baskets, Baskets for Hikers, Gift Baskets, Wedding Baskets, Birthdays and Baskets for any Holiday! All of our baskets are hand crafted, assembled and decorated here in the Adirondacks especially for you. Choose from our specially designed baskets or build your own! Secure Orderform Online!! We offer Direct Shipping! Checks, VISA, Mastercard or Discover Accepted. A Great Gift Giving Idea!
We invite you to visit our Adirondack Gallery showcasing unique Adirondack Furniture ~ Antler Chandeliers & Lamps ~ Hand Painted Canoe Paddles

~

Adirondack Packbaskets ~ Adirondack Prints ~ Authentic Birch Bark Framing ~ and hand crafted gifts for the holidays. Click here! We also offer interior design services for Adirondack
style camps & homes.

Birchbark Picture Frames

Antler Chandeliers

Snowshoe Lamps

Hand Painted Canoe Paddles

Adirondack Florist And Gifts - Cadyville, NY - (518) 293-7008

Adirondack Handweavers -Gloversville, NY - (518) 725-3371

Clear Creek Weavers - Lake Placid, NY

Judy Phillips -Tupper Lake, NY - (518) 359-9648

Linda's Basketry & Crafts -Beaver Falls, NY - (315) 346-1029

Maple Leaf Market - Lowville, NY - (315) 376-3014

The Natural Basket - Natural Bridge, NY - (315) 644-4821 Thomas Phillips - Tupper Lake, NY - (518) 359-9648


Calendar of Events | Vacation Rentals | Real Estate | Lodging & Accomodations
Dining | Summer Sports | Winter Sports | Arts & Crafts | Attractions | Shopping
Adirondack Kids | Adirondack Lifestyles | Business Profiles | Business Directory | Classifieds
Meet Our Sponsors | Adirondack History | Chat Room | Return Home



43 Broadway
Saranac Lake, New York 12983
Phone: 518-891-3745 Fax: 518-891-3768
E-Mail: Adirondacks.com
This website is owned and operated by
adirondacks.com internet publishing group.
For advertising and editorial content,
please contact Rob Grant;
adirondacks.com reserves the right to reject,
modify or cancel any advertising at its sole discretion.
© Adirondacks.com - all rights reserved