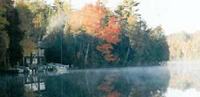 Cochrans Cabins - 1150 Kiwassa Lake Road, Saranac Lake, NY 12983 - (518) 891-5721, Email: Margie@adirondackcabin.com
Adirondack cabins on over 20 private, wooded acres on Lake Kiwassa which has water access to Oseetah Lake, Lake Flower and the Saranac Chain of Lakes. Each housekeeping cabin has a kitchen, wood burning stove, screened porch and private docks. Boats and canoes available,Open year-round. 3.5 miles south of the village and cabin prices range from $95-$250 per night / $600 - $1,200 per week. Fishing Packages available.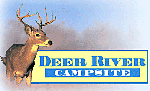 Deer River Cabins & Camp Ground
123 Deer River Drive Malone, NY 12953
County Road 14 (Red Tavern Rd.) Duane Center, NY
phone:(518) 483-0060 email: deeriver@westelcom.com
It is all part of the fun of New York's largest mountain range .. great fishing, miles of quiet wilderness trails, old logging roads and serpentine streams begging to be explored. Take in the panoramic view of rippling peaks and untouched forests mirrored in sparkling lakes and ponds. Deer River Campsite is dedicated to making your stay very comfortable, while you take in the scenery of our extraordinary area. Choose from one of our 84 wooded, well-spaced sites, with both pull-thru and double slideout site convenience, or one of five camping cabins. We're proud of our super-clean restrooms, laundry, playground, store, cafe, boat/canoe rentals and 2 recreation buildings. We offer the kind of camping vacation you'll love, all on the shore of a one and a half mile long, pristine lake.






Adirondack Camp Colby Cabins
241 Glenwood Drive
Saranac Lake, NY 12983
(518) 891-9583

Annie's Cabin
Oregon Pond, Box 44
Onchiota, NY 12989
(518) 891-0911

Bombard's Rustic Cabins
32 Brunswick Road
Saranac Lake, NY 12983
(800) 238-0208 or (518) 891-0208

Dusty's Hideaway
1729 State Route 86
Saranac Lake, NY 12983
(518) 891-3959

Emerald Spring Ranch
651 State Route 186
Saranac Lake, NY 12983
(518) 891-3727

End-O-Lake Cottage
Lower Chateaugay Lake
Brainardsville
518-425-3549


Hillman's Cottages
Lake Colby Drive
Saranac Lake, NY 12983
(518) 891-2263


Mallard Hill Cottages
PO Box 7
Saranac Lake NyY12983
Phone:(518) 891-6886


Mt. Morris View Cottage
2713 St. Rt. 30
Tupper Lake, NY 12986
(518) 359-3286

Northwood Cabins
2775 State Route 30
Tupper Lake, NY 12986
(800) 727-5756 or (518) 359-9606

Peebles Indian Lake Cottages
Box 184
Owls Head, NY 12969
(518) 483-7469 or (514) 626-7857

Quinn Cottage
Little Wolf Lake
Tupper Lake, NY 12986
(239) 793-6701 (Nov-May), (585) 554-3135 (June-Oct

Ray & Anita's Cottages
Route 458
St. Regis Falls, NY
(518) 856-9394

Rockledge Cabins
Route 30 South
Lake Clear, NY 12945
(518) 891-9685

Roe's Cottage
1 Little Wolf Road
Tupper Lake, NY 12986
(518) 899-2265


St. Regis Falls Scenic Campsites & Cabins
P.O. Box 289
St. Regis Falls, NY 12980
(518) 856-9820 or (518) 856-9482

Trailside Cabins
County Route 27
Owls Head, NY 12969
(518) 483-4872