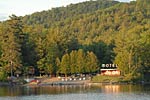 Motel Long Lake & Cottages
51 Dock Lane- Long Lake, NY 12847
Phone: (518) 624-2613
email: Reservations@MotelLongLake.com
Located directly on the shore of Long Lake, our motel offers the relaxing natural beauty of the Adirondacks as well as the convenience of quality service. We have 8 motel rooms and 13 newly renovated cottages. Relax on our sandy beach, take out one of our canoes, hike one of the local trails or simply enjoy the company of loved ones. Amenities include: boat docks, private beach, cable TV, DVD players, WIFI, bbq grills and picnic tables, fire pits, free canoes and kayaks for all our guests, playground, ping pong and volleyball. Here, you can escape, unwind and leave all worries behind; we'll take care of the rest.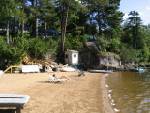 SHAMROCK MOTEL & COTTAGES
1055 Deerland Rd/Rte 28N
Long Lake, NY 12847
Phone: (518) 624-3861
Email
Family owned and operated since 1925. Open all year with extensive renovations recently completed on all units. Spacious grounds, pristine sunsets, and a sandy beach are just outside your clean and modern cottage, motel, or efficiency unit. Swimming, docks, boats for rent, satellite TV, WIFI, guest computer at office, fire pit, picnic tables, barbeques, Laundromat, game/great room, and lawn games.Cottages are rented weekly during busy summer season. Most weekends require 2 night minimum stay. Centrally located for Adirondack attractions (Adirondack Experience,the Wild Center, Great Camps Sagamore & Santanoni, the Adirondack Visitors Interpretive Centers...). Just 500 feet to Long Lake's Recreation area (tennis, basketball, special events...) and a short walk to village shops, restaurants, and municipal buildings. email :shamrockmotel@frontiernet.net

BENSON, NY
Lapland Lake X-C & Vacation Center - (518) 863-4974
BLUE MOUNTAIN LAKE, NY
Curry's Cottages - (518) 352-7354
LaPrairies's Lakeside Cottages - (518) 352-7675 or 7306
Prospect Point Cottages - (518) 352-7378
Steamboat Landing - (518) 352-7323
HOPE, NY
Cottages - (518) 924-7908
INDIAN LAKE, NY
Burke's Cottages - (518) 648-5258
Camp Driftwood - (518) 648-5111
Campbell's Cottages - (518) 648-5174
Chief Sabael Cottages - (518) 648-5200
Galusha's Cottages - (518) 648-5365
Indian Lake Motel - (518) 648-5859
Indian Ridge Chalet - (518) 648-5340
Lake Francis - (518) 648-5520
Lake Francis Cottages - (518) 648-5127
Lake Front - (215) 493-1791
Larson's Cedar Haven - (518) 648-5171
McCormacks Cottages - (914) 623-3079
Point Breeze Motel & Cottages - (518) 648-5555
Sandy Beach Camp - (518) 648-5406
Smith's Cottages - (518) 648-5222
Snowshoe Hill Cottages - (518) 648-5207
Twin Coves - (518) 648-5332
INLET, NY
Arthur's Accommodations - (315) 357-6635
Bamberger Cottages - (315) 357-3413
Blarney Point - (315) 357-5292
Clayton's Cottages - (315) 357-3394
The Crosswinds - (315) 357-4500
Deer Meadows Motel & Cottages - (315) 357-3274
Drakes Cottages - (315) 357-5181
Gribneau Getaway - (315) 357-5177
Harvey's 4th Lake Cottages - (315) 357-3565
Hazens Lakeside Cottages - (315) 357-2121
Nelson's Cottages - (315) 357-4111
North Star Motel - (315) 357-4131
Payne's Cottages - (315) 357-3971
Ramblers Lodge - (315) 357-4961
Red Ski Lodge - (315) 357-3883
Stiefvaters Motel & Cottages - (315) 357-2222
Sunset Beach Cottage - (315) 357-2692
The Willis Lodges - (315) 357-3904
Wood Holme - (315) 357-2161
LAKE PLEASANT, NY
Ambrust Cabins - (518) 548-4765
Little Island Cottage - (518) 548-3845 or (315) 354-5866
Pleasant View - (201) 891-0225 or (201) 891-5924
Water's Edge Lakeside Cottages & Motel - (518) 548-6031
Wilbur's Cottages - (518) 548-8115
LONG LAKE, NY
Green Harbor Motel & Cottages - (518) 624-4133
Journey's End Cottages- (518) 624-5381
Lakeside Cottage - (518) 624-3692
Long View Lodge - (518) 624-2862
Motel Long Lake & Cottages - (518) 624-2613

Quackenbush's Adirondacks Long View Lodge - (518) 624-2862
Shamrock Motel & Cottages - (518) 624-3861
Water's Edge Cabins - (518) 624-5825
PISECO, NY
Half Moon Beach - (518) 548-6002
Irondequoit Inn - (518) 548-5500
Joslin Cottages - (518) 548-8607
Pleasant Manor - (518) 548-7640
RAQUETTE LAKE, NY
Burke's Cottages - (315) 354-4623
Camp Windy Snow - (607) 967-2221
Cottage on Raquette Lake - (315) 354-5706
Cummings Cove Cottages - (315) 354-5783
The Loft - (315) 354-5532
Mildred Dillon Cottages - (315) 354-4201
Paley's Cottages - (315) 354-4530
Plunkett's - (315) 354-5294
Risley's Rush Point - (315) 354-5211 or 429-9239
SPECULATOR, NY
Bearhurst -(518) 548-6427
Village Motel -(518) 548-7021
WELLS, NY
Duffy's Lakeside Cottages -(518) 924-9207