Warren County offers a wide variety of accommodations to suit every taste.
We invite you to preview our list below.

All Hotel Search Lake George
Stop here first for great deals on hotels in Lake George, New York. Compare our Lake George, New York hotel rates and save up to 50%! Guaranteed low rates. Book online now!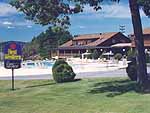 Best Western of Lake George:
Phone: (800) 234-0265 or (518) 668-5701 For Reservations:1-800-528-1234
Exit 21, I-87 Lake George, NY 12845
Email
Choose one of the spacious deluxe suites with a fireplace and Jacuzzi.. Or choose an ultra suite, an 1800 square foot suite with fireplace, washer/dryer sitting room, dining room and kitchen. At the Best Western Lake George Motel you'll find an outdoor pool heated indoor pool, Jacuzzi, wading pool, conference facilities, Choose from mountain view and poolside guest rooms. Kids love the indoor and outdoor pools. Parents love the Kids Stay Free Program!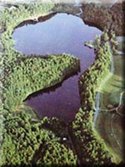 Green Mansions Country Club Estates in the Adirondacks
112 Green Mansions Road Chestertown, NY 12817
Phone: (518) 494-3721 Email
Come to the private world of Green Mansions! Within the seclusion of our forrested, 500 acre, Lakefront Community, Green Mansions Country Club Estates offers 1-4 bedroom Condominium, Townhouse, and Private Home rentals for Year-Round family Vacations, Weekend Getaways and Special Packages. Private, beach, 10 Har-Tru Tennis Courts, Green Mansions Public Golf Club, Kayaking, Canoeing, Hiking, Downhill/X-Country Skiing and much more. Every unit with a wood-burning fireplace, Full Kitchen w/all Appliances, Patio/Deck w/Barbeque, Satellite TV, VCR & Telephone. 24/7 Laundry room. Recreation, Relaxation and Adventure- Start building your family vacation traditions at Green Mansions today!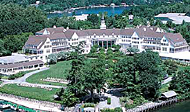 The Sagamore
110 Sagamore Road P.O. Box 450 Bolton Landing, NY 12814
Phone: (866) 385-6221 or (518) 644-9400
Fax: (518) 743-6036
Email: reserve@thesagamore.com
Situated in the unspoiled Adirondack Mountains, The Sagamore features accommodation in the Historic Hotel and The Lodges. A year-round resort and sports paradise, The Sagamore offers a Donald Ross championship golf course, European-style Spa and Sailing School. At The Sagamore, you have a choice of accommodations to match your vacation and meeting needs. All accommodations are smoke-free and offer high-speed wireless internet, dataports and televisions with access to games and movies.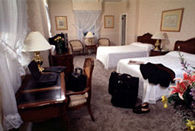 Queensbury Hotel
88 Ridge Street Glens Falls, NY 12801
Phone: (518) 792-1121 Queensbury Hotel
A full-service 125 room hotel, located on the park in the center of downtown Glens Falls,NY. The Queensbury Hotel is central to Saratoga, Lake George, and Adirondack Mountains region placing you just minutes away from many historical and world famous attractions.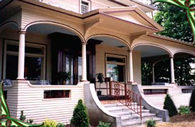 The Glens Falls Inn
25 Sherman Avenue Glens Falls, NY
Phone (518) 743-9365 The Glens Falls Inn This 19th Century Victorian home has been restored to its original beauty. It's the perfect place for the business traveler and tourist. All rooms have a queen size bed, private bath, phone, and cable TV. Each morning you get a full breakfast.

Blue Water Manor / Stone Manor Restaurant
4436 Lake Shore Drive
Diamond Point, NY 12824
1-800-299-8938

Boulders Resort and Cabins
3036 Lake Shore Dr
Lake George, NY 12845
518-668-5444

Brookside Motel
504 Canada Street
Lake George, NY 12845
1-(800)-438-6827

Chelka Lodge
4204 Lake Shore Drive
Diamond Point, NY 12824
(518) 668-4677


Contessa Resort, Restaurant & Marina
5102 Route 9N
Bolton Landing, NY 12814
518-644-5921

Days Inn Lake George
1454 State Route 9
Lake George, NY 12845
800-274-7111

Diamond Cove Cottages & Motel
3648 Lake Shore Drive
Diamond Point, NY 12824
518-668-3161

Dunham's Bay Lodge
2999 State Rt 9L
Lake George, NY 12845
1-800-795-6343

The Flamingo Resort
3914 Lake Shore Drive
Diamond Point, NY 12824
888-554-3674

Fort William Henry Resort
48 Canada Street
Lake George, NY 12845
(800) 234-0267

Golden Sands Resort
P.O. Box 11
Diamond Point, NY 12824
518-668-2203

The Heritage of Lake George
419 Canada Street
Lake George, NY 12845
1-800-883-2653

Holiday Inn Turf - Lake George
2223 Canada Street, Route 9
Lake George, NY 12845
518-668-5781

Kelly's Lake George Gardens Motel
2107 State Route 9N South
Lake George, NY 12845
(800) 955-8544

King Hendrick Motel
1602 State Route 9
Lake George, NY 12845
(866) 521-6883

Lake George Suites
3678 Lake Shore Drive
Lake George, NY 12845
800 903-4622

Landmark Motor Inn
1418 Route 9
South Glens Falls, NY 12803
1-800-541-3441

Lees Motel and Cottages
18 McGinnis Lane
Lake George, NY 12845
518-668-4638

Lyn Aire Motel
1872 State Route 9
Lake George, NY 12845
(800) 241-1719

Marine Village Resort
370 Canada Street
Lake George, NY 12845
(800) 727-7090

The Medbery Inn & Spa
48 Front Street
Ballston Spa, NY 12020
(800) 508-1804

Nordicks Motel Lake George
2895 Lake Shore Drive
Lake George, NY 12845
(800) 368-2697

Roaring Brook Ranch Resort/ Conference Center
Rte. 9N South
Lake George, NY 12845
(800) 882-7665

Somewhere In Time Bed & Breakfast
3841 Lake Shore Drive
Diamond Point, NY 12824
(518) 668-9151

Studio Motel Lake George
Rt. 9L PO Box 627
Lake George, NY 12845
(888) 738-2566

Sun Castle Resort On Lake George
3178 Lake Shore Drive
Lake George, NY 12845
518-668-2085

Super 8 Motel - Lake George
PO Box 448 Canada Street
Lake George, NY 12845
(800) 800-8000

Tall Pines Motel
1747 St. Route 9
Lake George, NY 12845
(518) 668-5122

Thunderbird Resort & Marina
Lakeshore Drive
Diamond Point, NY 12824
(518) 668-4824

Treasure Cove Resort
3940 Lakeshore Drive
Diamond Point, NY 12824
(518) 668-5334


Balmoral Motel
444 Canada Street
Lake George, NY 12845
(800) 457-2673

Best Western Lake George
Exit 21, I-87
Lake George, NY 12845
(800) 234-0265

Blair House
2734 State Route 9 - Canada Street
Lake George, NY 12845
518-668-2871


Courtyard by Marriott at Saratoga Springs
11 Excelsior Avenue
Saratoga Springs, NY 12866
1-866-4-COURTYD

Do-Rest Court
Route 9
Lake George, NY 12845
518-668-4663

Green Haven Resort
3136 Lake Shore Drive
Lake George, NY 12845
(800) 269-9978

Holiday Inn Hotel Saratoga Springs
232 Broadway
Saratoga Springs, NY 12866
518-584-4550

Howard Johnson Tiki Resort
2 Canada Street
Lake George, NY 12845
1-800-446-4656

Kastner's On The Lake
188 Hidden Valley Road
Lake Luzerne, NY 12846
(518) 696-2715

Kathy's Motel
2354 State Route 9N
Lake George, NY 12845
888-420-1691

Lake George Beach House Cottages
Beach Road
Lake George, NY 12845
(800) 955-8544

Lake George Bear's Den
3243 Lake Shore Drive
Lake George, NY 12845
1-877-484-2327

Longfellows Inn, Restaurant & Conference Center
500 Union Avenue
Saratoga Springs, NY 12866
(518) 587-0108

Mohawk Motel & Choice Inn
435 Canada Street
Lake George, NY 12845
800 795-6680

Mohican Motel
1545 State Route 9
Lake George, NY 12845
(518) 792-0474

Prime Hotels and Resorts
534 Broadway
Saratoga Springs, NY 12866
518-584-4000

Prospect Aire Motel
75 Mohican Street
Lake George, NY 12845
518-668-5069

Quality Inn - Lake George
57 Canada Street
Lake George, NY 12845
1-800-4CHOICE

Surfside On The Lake
400 Canada Street
Lake George, NY 12845
1-800-342-9795

Tahoe Beach Club Resort
Lakeshore Drive - Route 9N
Lake George, NY 12845
1-800-833-8484

Trout House Village
9117 Lakeshore Drive
Hague, NY 12836
(800) 368-6088

Wakita Motel
1130 Route 9
Queensbury, NY 12804
(800) 622-0938


Adirondack Diamond Point Lodge
3629 Lake Shore Dr
Lake George, NY 12845
518-668-4499

Admiral Motel
401 Canada Street
Lake George, NY 12845
518-668-2097

All Tucked Inn
53 South Main St. (Rt. 22)
Westport, NY 12993
1-888-ALL-TUCK





The Alpine Motel
Main St..
North Creek, NY 12853
(518) 251-2451

Amber Lantern Motel & Cottages
3601 Lake Shore Drive
Lake George, NY 12845
518-668-4613

Antigua Resort
27 Antigua Road
Lake George, NY 12845
518-668-2556

The Austin Inn
6 Hill Drive
Lake George, NY 12845
518-668-2105

Balsam Motel
430 Canada Street
Lake George, NY 12845
(518) 668-3865


Bolton Pines Motel
4571 Lake Shore Drive
Bolton Landing, NY 12814
518-644-9845

Brown's Welcome Inn
932 Route 9 Lake George Rd
Queensbury, NY 12804
518-792-9576

Capri Village Resort & Motel
3926 Lake Shore Drive
Diamond Point, NY 12824
518-668-4829

Cobble Mountain Manor
2184 Route 9
Lake George, NY 12845
1-800-709-6470

Country Cottages Motel
PO Box 151
Diamond Point, NY 12824
1-888-372-4909

Cramer's Point Motel & Cottages
3382 Lake Shore Drive
Lake George, NY 12845
518-668-2292

The Depe Dene Resort
3494 Lake Shore Drive
Lake George, NY 12845
518-668-2788

Doray Motel
4 Fort George Road
Lake George, NY 12845
518-668-2902

Dutchess Motel
3029 Lake Shore Drive
Lake George, NY 12845
1-800-785-9558

Econolodge Lake George Motel
439 Canada Street
Lake George, NY 12845
1-800-477-3529

Fairfield Inn & Suites Saratoga
101 Saratoga Village Boulevard
Malta, NY 12020
1-866-368-6900

Fern Lodge
46 Fiddlehead Bay Road
Chestertown, New York, 12817
Phone: (518) 494-7238

Forest Hill Motel and Cottages
PO Box 806
Lake George, NY 12845
518-668-5560

Fran Cove Motel
2747 State Route 9
Lake George, NY 12845
1-888-FRN-COVE

Friends Lake Inn
963 Friends Lake Road
Chestertown, NY 12817
518-494-4751

The Georgian Resort
384 Canada Street
Lake George, NY 12845
518-668-5401

Gideon Putnam Resort & Spa
24 Gideon Putnam Road
Saratoga Springs, NY 12866
1-800-732-1560

Glen Moore Lodge
330 Glen Lake Road
Lake George, NY 12845
518-792-5261

Hearthwaters Lakefront Motel and Cabins
1315 Lake Avenue
Lake Luzerne, NY 12846
518-696-5485

Highway One Motel
48 West Street
Lake George, NY 12845
1 (800) 955-8544

Hillview Cottages
3647 Lake Shore Drive
Diamond Point, NY 12824
1-800-468-5787

Holly Tree Inn
2191 State Rt. 9
Lake George, NY 12845
518-668-5031

The Inn at Erlowest
3178 Lake Shore Drive
Lake George, NY 12845
518-668-5928

The Inn of Lake George
12 McGillis Avenue
Lake George, NY 12845
(518) 668-4442

Inn on Gore Lodge and Restaurant
711 Peaceful Valley Road
North Creek, NY 12853
(518) 251-2111

The Juliana Resort
3842 Lake Shore Drive
Diamond Point, NY 12824
518-668-5191

Lake Haven Motel
Canada St & Lake Avenue
Lake George, NY 12845
518-668-2260

The Lake Motel
380 Canada Street
Lake George, NY 12845
518-668-2810

Lakewood Motel
3381 Lake Shore Dr
Lake George, NY 12845
(518) 668-4665

Maple Leaf Motel
1370 US Route 9
Schroon Lake, NY 12870
(800) 526-9374

The Mayfair Resort
Lake Shore Drive
Bolton Landing, NY 12814
(518) 644-5681

Melody Manor
4610 Lake Shore Drive
Bolton Landing, NY 12814
518-644-9750

Motel Montreal
3 Lake Avenue
Lake George, NY 12845
(518) 668-5439

Nancy Lee Motel
1420 Lake Avenue
Lake Luzerne, NY 12846
(518) 696-2032

Nassau Motel
1881 State Route 9
Lake George, NY 12845
(518) 668-5356

Nomad Housekeeping
8 Birch Avenue
Lake George, NY 12845
(518) 361-2543

Northern Lake George Resort
Silver Bay, NY 12874
(518) 543-6528

Olympian Village Resort
PO Box 127
Diamond Point, NY 12824
(800) 388-8577

Painted Pony Ranch
746 Howe Road
Lake Luzerne, NY 12846
518 696 5353

Pine Brook Motel
2905 Lakeshore Drive
Lake George, NY 12845
1-800-279-2753

Queensbury Hotel
88 Ridge Street
Glens Falls, NY 12801
(800) 554-4526

The Roosevelt Inn & Suites
Box 177 South Broadway
Saratoga Springs, NY 12866
(800) 524-9147

The Sagamore
Sagamore Island
Bolton Landing, NY 12816
(800) 358-3585

Saratoga Turf & Spa Motel
176 Broadway
Saratoga Springs, NY 12866
(800) 972-1229

Scotty's Motel & Cabins
Lake Shore Drive
Lake George, NY 12845
1-877-749-0930

Seven Dwarfs Motor Court
468 Canada St. (Route 9)
Lake George, NY 12845
1-888-898-5161

Shabat Motel and Cabins
Pine Grove Cottages
Lake George, NY 12845
(518) 668-4036

Sleep Inn & Suites Lake George
906 State Route 9
Queensbury, NY 12804
1-800-Sleep-Inn

Still Bay Resort
Lake Shore Drive, 9N
Lake George, NY 12845
1-(800)-521-7511

Tea Island Motel
3020 Lake Shore Drive
Lake George, NY 12845
(518) 668-277

Twin Bay Village
Lake Shore Drive
Bolton Landing, NY 12814
(518)644-9777

Villager Motor Inn
99 Canada Street
Lake George, NY 12845
1-877-263-0701

Whippoorwill Motel & Campsites
1784 State Route 9
Lake George, NY 12845
(518) 668 5565

Windsor Motel
51 Canada Street
Lake George, NY 12845
(888) 668-5134





Calendar of Events | Vacation Rentals | Real Estate | Lodging & Accomodations
Dining | Summer Sports | Winter Sports | Arts & Crafts | Attractions | Shopping
Adirondack Kids | Adirondack Lifestyles | Business Profiles | Business Directory | Classifieds
Meet Our Sponsors | Adirondack History | Chat Room | Return Home



43 Broadway
Saranac Lake, New York 12983
Phone: 518-891-3745 Fax: 518-891-3768
E-Mail: Adirondacks.com
This website is owned and operated by
adirondacks.com internet publishing group.
For advertising and editorial content,
please contact Rob Grant;
adirondacks.com reserves the right to reject,
modify or cancel any advertising at its sole discretion.
© Adirondacks.com - all rights reserved