All Hotel Search Lake Placid
Stop here first for great deals on hotels in Lake Placid, New York. Compare our Lake Placid, New York hotel rates and save up to 50%!. Book online now!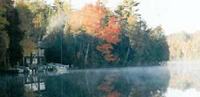 Cochrans Cabins - 1150 Kiwassa Lake Road, Saranac Lake, NY 12983 - (518) 891-5721, Email: Margie@adirondackcabin.com
Adirondack cabins on over 20 private, wooded acres on Lake Kiwassa which has water access to Oseetah Lake, Lake Flower and the Saranac Chain of Lakes. Each housekeeping cabin has a kitchen, wood burning stove, screened porch and private docks. Boats and canoes available,Open year-round. 3.5 miles south of the village and cabin prices range from $95-$250 per night / $600 - $1,200 per week. Fishing Packages available.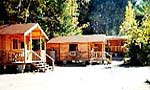 Camping Cabins at Yogi Bear's Jellystone Park -Paradise Pines
P O Box 180 Blue Ridge Road North Hudson, NY 12855 phone: 800-232-5349 email: office@paradisepine.com
Located in the beautiful Adirondack Mountains along the Schroon River. Luxury New camping cabins in and around the beautiful Jellystone Park Resort Campgound setting are just what you are looking for. Our easy access to all the Adirondack attractions and the serenity of our relaxing resort makes your stay with us the perfect combination. Some resort amenities include multi playgrounds, mini-golf, snack bar, bike & boat rentals, laundry facilities, pool & sandy beach riverfront. Activities are provided to our guests daily if they chose to partake. For those looking for relaxation and serenity sit by the campfire in front of your cabin. 750' off I-87 exit 29.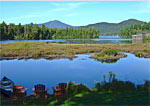 Placid Bay Inn "on Lake Placid"
2187 Saranac Ave , Lake Placid, NY
Phone/Fax (518) 523-2001
Email - info@placidbay.com
Our picturesque Inn is located right on Placid Lake and in the village of Lake Placid. Adirondack ambiance surrounds you in our newly renovated rooms, kitchenettes, suites and cottages. Our Inn has free canoes, outdoor pool, and Adirondack chairs for lounging by the Lake with magnificent views of Whiteface Mountain. All accommodations include free Wi-Fi. Visit our website to check availability and Book Online. You can also view our numerous packages: golf, ski, romance, and more!




CROWN POINT, NY

Champlain Shores - (no web site available)

JAY, NY

Fourpeaks--Adirondack Camps & Guest Barns (no web site available)



Don's Hideaway Lodges - (no web site available)

Mountain View Farm - (no web site available)

KEENE, NY

Mountain Manor - (no web site available)

Pine View Cottages -(no web site available)

KEENE VALLEY, NY

Pinewood Guest Cottage -(no web site available)

Trail's End Inn
HC01 Box 103, Keene Valley, New York 12943 - (518) 576-9860 or 800-281-9860

LAKE PLACID, NY

Cobble Mt. Lodge- (no web site available)

The Evergreens - (no web site available)

Placid Bay Inn "on Lake Placid" - 70 Saranac Avenue, Lake Placid, NY, Phone/Fax (518) 523-2001

Mt. Van Hoevenburg Bed & Breakfast and Cottages
(no web site available)

Mountain View Inn - 140 Main St., Lake Placid, NY, Phone: 1-800-499-2439

Whispering Pines - (no web site available)

MINERVA, NY

Morningside Camps & Cottages - (no web site available)

NORTH HUDSON, NY

Elk Lake Lodge - (no web site available)

Red Top Diner & Cabins -(no web site available)

Camping Cabins at Yogi Bear's Jellystone Park -Paradise Pines
P O Box 180 Blue Ridge Road North Hudson, NY 12855 phone: 800-232-5349

PORT HENRY, NY

Craig Harbor Canyon - (no web site available)

Family Fun Cabins - (no web site available)



RAY BROOK, NY


Moreno's Cottages Ray Brook, NY 12977 phone: (734)242-3605



SARANAC LAKE, NY


Ampersand Bay Boat Club16 Ampersand Bay Road , Saranac Lake, NY 12983
(518) 891-3001


Cochrans Cabins 303 Kiwassa Road, Saranac Lake, NY 12983
(518) 891-5721

Mallard Hill Cottages PO Box 7 Saranac Lake NY 12983
Phone:(518) 891-6886

SCHROON LAKE, NY

Calmbacher Cottage - (no web site available)

Captain's Rest Housekeeping Cottages - (no web site available)

Car-Michael's - (no web site available)

Chamlar Lodge & Cottages -(no web site available)

Davis Motel & Cottages - (no web site available)

Dun Roamin Cabins - (no web site available)

Elm Tree Cabins & Motel - (no web site available)

Hawk Hollow Cottages - (no web site available)

Kish Duna Motel & Cottages - ((no web site available)

Rainbow Motel & Cottages - (no web site available)

Rawlins Motel & Cottages - (no web site available)

Rowe's Lake Breeze Cottages (no web site available)

Schroon Lake Place - (no web site available)

Seagle Colony Cottages - (no web site available)

Sunderland Housekeeping Cottages - (no web site available)

Terra Alta - (no web site available)

Willford 4 Season Rentals - (no web site available)

SEVERANCE, NY

Lake Paradox Club - (no web site available)

Laymond Cottages - (no web site available)

North Woodlands Cottages - (no web site available)

TICONDEROGA, NY

BJ Davis - (no web site available)

WESTPORT, NY

Barber Homestead Cabins - (no web site available)

Bradamant Corp. Cottages - (no web site available)

WILLSBORO, NY

Champlain Angler Lodge - (no web site available)

WILMINGTON, NY

Everest Place at Whiteface - (no web site available)

Ham's Shangri-La Chalet - (no web site available)

Huntington Motel & Cottages - (no web site available)


Wilderness Inn II - (no web site available)